If you wish to configure your browser to NOT require the need to press this button and allow audio/video to start automatically on ANY web site, follow the steps below:

Open Firefox
Click on "Edit" (which may be that thing in the upper-right that consists of three horizontal lines)
Go/scroll down to "Settings" and click on it.
Find and click on "Privacy and Security"
Scroll down to the "Permissions" section
Go to "Autoplay" and click on "Settings"
Where it says "Default for all websites", left-click on the down arrow and select "Allow Audio and Video":  Please note that this will disable the "gesture" requirement for all sites, as it was before the Firefox version 103 update.  Note that there is an advanced configuration to allow only certain sites, if you wish.
Close and restart Firefox.
There are three ways to tune on a desired frequency:
Click the waterfall. Correct the frequency using: You can also

Using the buttons you will have various steps, according the Mode (SSB, AM etc).
NB: if you use AM below 1620 KHz, the step will be 9 KHz, otherwise it will be 5 KHz
Type any frequency that SDR bands covers and press Enter.

Drug the cursor. You can also select first the Band and then pick up your frequency:

You can select the bandwidth using the fixed values:



or manually, using tabs wider, narrower etc.

You can also click and drug the right or left part of the cursor and select the bandwidth:


You can select between:
colored waterfall
zoom colored waterfall (page zoom width)
old style zoom waterfall (page zoom width)

Tab Waterfall View: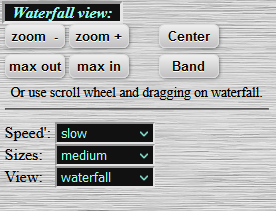 Various options regarding waterfall's zoom
Speed, Size and View will help you to adjust the way that waterfall acts.
Press Save to Memory so to store a frequency. Frequencies are stored as a cookie, so if you clean them from browser then the memories will be deleted. To avoid deleting your memories, you can store them and download them locally. Then you can upload them every time you wish to do so, or move them to another WebSDR, which uses the same function.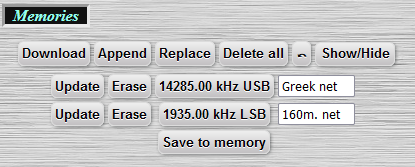 We recommend to use a name or a callsign so to use the chat. "Uknown" users cannot chat. Please respect the other users and the owner of the WebSDR.
Clicking on a user you will QSY to the frequency that the user is tuned. You may need to correct it if you have been moved to a side band frequency.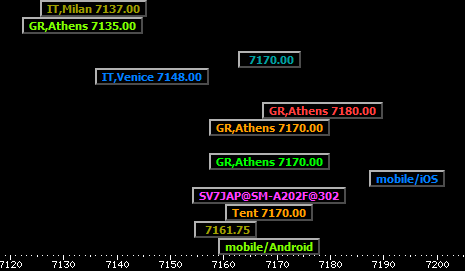 Audio Controls: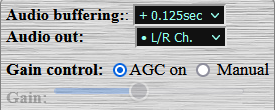 Audio buffering will help you if you face bandwidth problems.
Audio out can be used if you wish to use left, right or both audio channels. You can e.g. hear a WebSDR in the left channel, and another WebSDR or your transceiver to the right channel.
Gain Control of the AGG can be turned on (auto) or off (manual gain)
You can also record a QSO, download the file and reproduce it with your favorite audio player.


You can use Signal Strength Plot to check the signals: